Why Outsource your Medical Transcriptions?
Medical practice in the United States is bound by strict codes of ethics and statutes. To ensure compliance of medical professionals, a high level of documentation in every stage of treatment is mandatory. These records are used for various purposes including medical research, insurance claims and even lawsuits.
A cost effective and efficient way to produce these documents is to outsource medical transcription services. Healthcare professionals simply record (dictate) their findings using a hand-held digital recording device. These digital audio dictations are then sent to medical transcriptionists who transcribe the data into electronic reports, then send them back to organization.
A Simple Process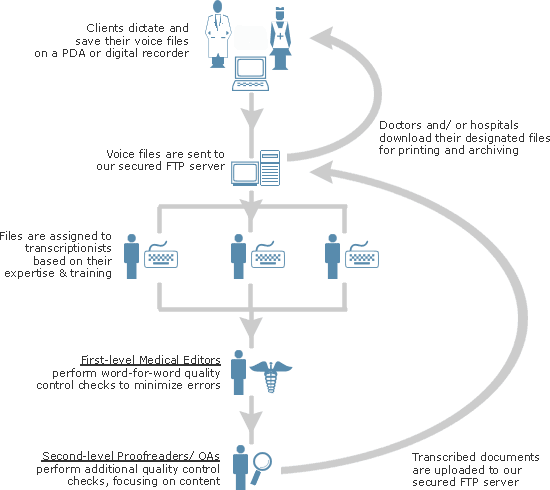 Dictations
Two systems allow you to transfer dictation files to Scripsys, depending on your needs and specifications:
Scripsys Orange – A simple process that automates the file transfer process from your digital recorder to our system.
Scripsys Blue – A sophisticated system that combines hand-held recording devices and toll-free telephony with an integrated file transfer system. This solution features EMR integration, physician e-signatures, and multiple report delivery.
Either of the Scripsys systems can capture your dictations using any digital recording device. In addition, Scripsys Blue offers a toll free telephone service that mimics the features of a hand-held recording device. Your recorded dictations are stored as voice files and will be uploaded to our system over the internet using a secure file transfer process.

Three voice dictation methods at your convenience:
Hand-held Digital Recorder – A number of common brands can be used such as Olympus, Dictaphone, or Sony to record your findings. Once dictated, your recording device is paired with your personal computer and the recorded voice files are uploaded through a secured FTP server and sent for processing to our medical transcriptionists.
PC-based Recording – Clients dictate and save their voice files on their personal computer. The recorded files are then uploaded to our secured FTP server and are sent for processing to our medical transcriptionists.
Toll-free Telephony – Clients who prefer the simplicity of recording via telephone, either via landline or cell phone, can access our toll-free telephone recording service. The phone system uses automated voice prompts that mimic the features of a hand-held recording device and automatically upload the files to our medical transcriptionists. (Scripsys Blue only.)
Transcriptions
Clients' files received in our secured server are encrypted and are automatically distributed to our medical transcriptionists. To ensure the quality of reports, files go through a 3-step quality system before they are submitted back to our clients.
Distribution by Expertise. The medical field expertise of each medical transcriptionist is considered in the assignment of files to be worked on. Each medical transcriptionist has a basic medical skill-set and has a specialty field based on his/her medical and transcription training.
First-level Medical Editors. After the medical transcriptionist finishes transcribing the voice files into a document, these files are transferred to first-level medical editors. They perform word-for-word quality control checks in order to minimize errors and omissions.
Second-level Proofreaders/QA. After the medical editor finishes editing the voice files into a document, these files are transferred to proofreaders and quality assurance managers to focus more on the content of the report for quality control checks.
After the reports are completed, the files can be delivered via a number of methods:
Web-enabled access of dictations and transcriptions can allow you access from anywhere you have internet access.
Data imports into your EMR system. (Scripsys Blue only.)
Web-based review and approval of reports, including physician electronic signatures and file routing. (Scripsys Blue only.)
Remote batch printing of reports to multiple locations such as fax machines, email routing, and cc's to interested parties. (Scripsys Blue only.)
Customized Convenience
Our transcription process is entirely seamless to you. At Scripsys you will benefit from:
Customized normals and templates – For added convenience, we can establish templates for your most commonly used findings and procedures. For example, you may establish a normal for a certain procedure and simply record your findings that are inserted into certain fields of the template.
Automated workflow and accountability – Our system automatically routes files to the pre-designated transcriptionist and allows you to monitor its progress along the process.
Real-time work distribution including STAT delivery of files – You determine whether the files are to be handled within a normal 24 hour turnaround time or other, shorter TAT you may specify.